MCRSP/NARR Training Platforms

Welcome to the MCRSP Training Platform!

We are glad that you have taken the time to explore these evidence-based recovery best practices with us! 
The first 20 modules you will find here were created by the National Alliance for Recovery Residences (NARR). Each module will walk you through a specific topic of interest to recovery housing, including the social model of recovery, and assist you in creating your own policies and procedures for your housing program. Each module could take one to two hours to complete and there is a short quiz at the end of each one. You will only be allowed to attempt each quiz four times before you are locked out and will need an administrator to reset the module for you. So please do not skim through the material without watching the videos and be sure to fill out the journal as you go so you can complete the quiz successfully.
You will receive a printable certificate at the end of each completed quiz. Each completed module has been approved for 1 CEU through the Missouri Credentialing Board (MCB).
Each person that plans to use the training system must have their own account and login information. Organizations are not limited to one login; multiple participants are allowed. These trainings are available to people across the country at a substantial cost, but anyone in Missouri (or Iowa) can access the trainings for FREE through funding agreements we have with the public agencies in those states (such as the MO Department of Mental Health or Iowa Dept. of Public Health).
Please use the following instructions below to enter the system for free.
1.  Click the link:  https://missouri-narr.talentlms.com/index
     This will take you to the MCRSP/NARR Training Platform
     in a new window. 
2.  Click on "SIGNUP" in top right corner of the page.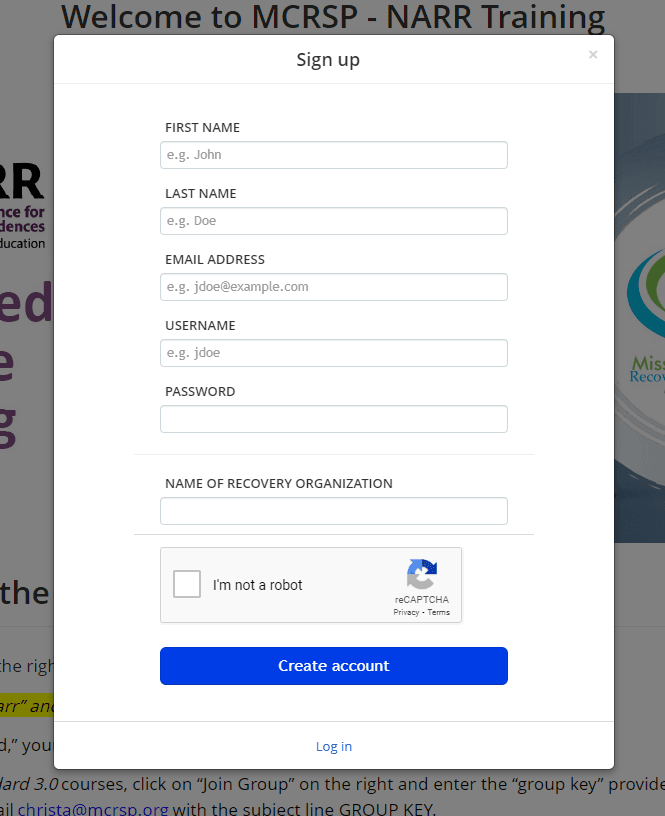 Enter your information (name, email, username, password, and name of your organization), complete reCAPTCHA, and then click "Create Account".
3.  Check your email - your account must be confirmed through the
     email link sent to you before logging in for the first time. 
4.  After confirming your account through the email, log into
     your account.
5.  Click on "JOIN GROUP".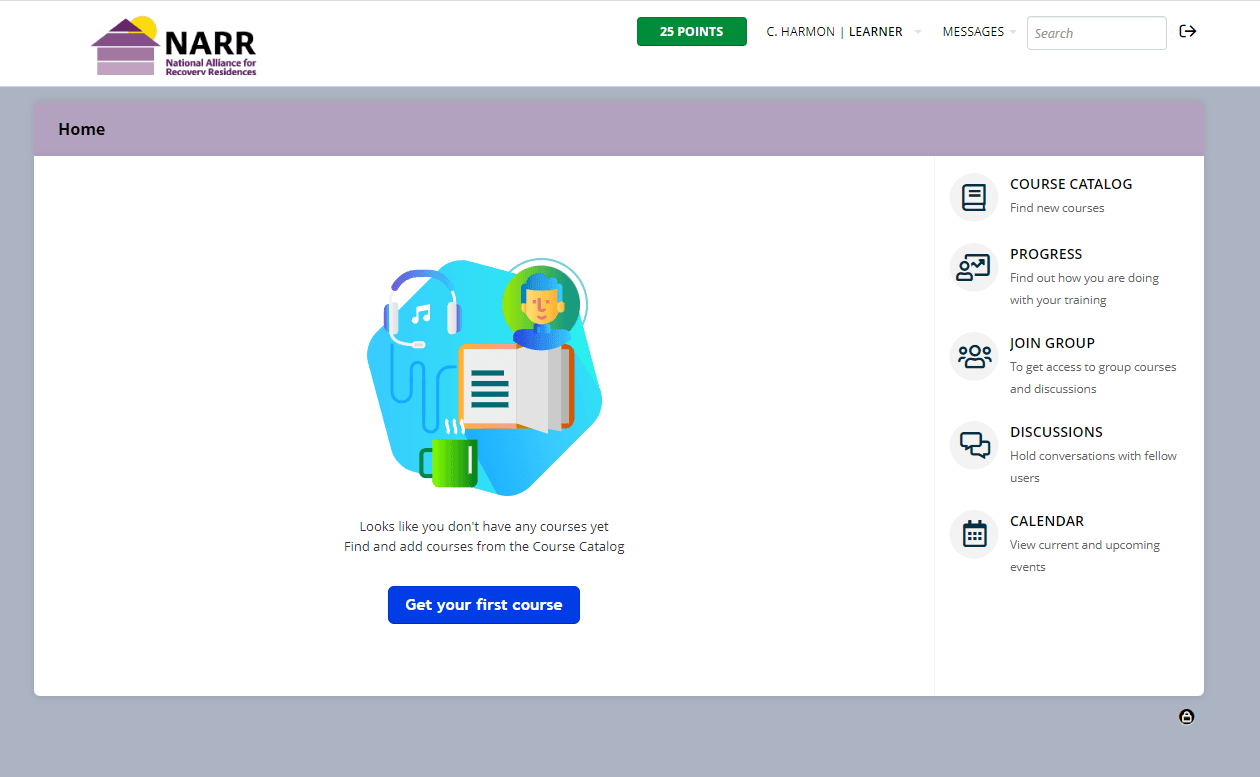 6.  Enter the Group Key supplied by MCRSP. Without this
     Group Code, you will be charged for the training. To get the pieces of training
     for free, you must obtain this group code. If you do not have this
     Group Key, email christa@mcrsp.org, and it will be supplied to you.
Coming Soon!
Training Modules specific for Missouri Recovery Housing Providers will address how to fill out the housing application, an overview of the state billing system, and other topics specific to Missouri. These new modules are currently in development and will be released soon.

**Not all states are the same and some state-specific requirements need to be in place.