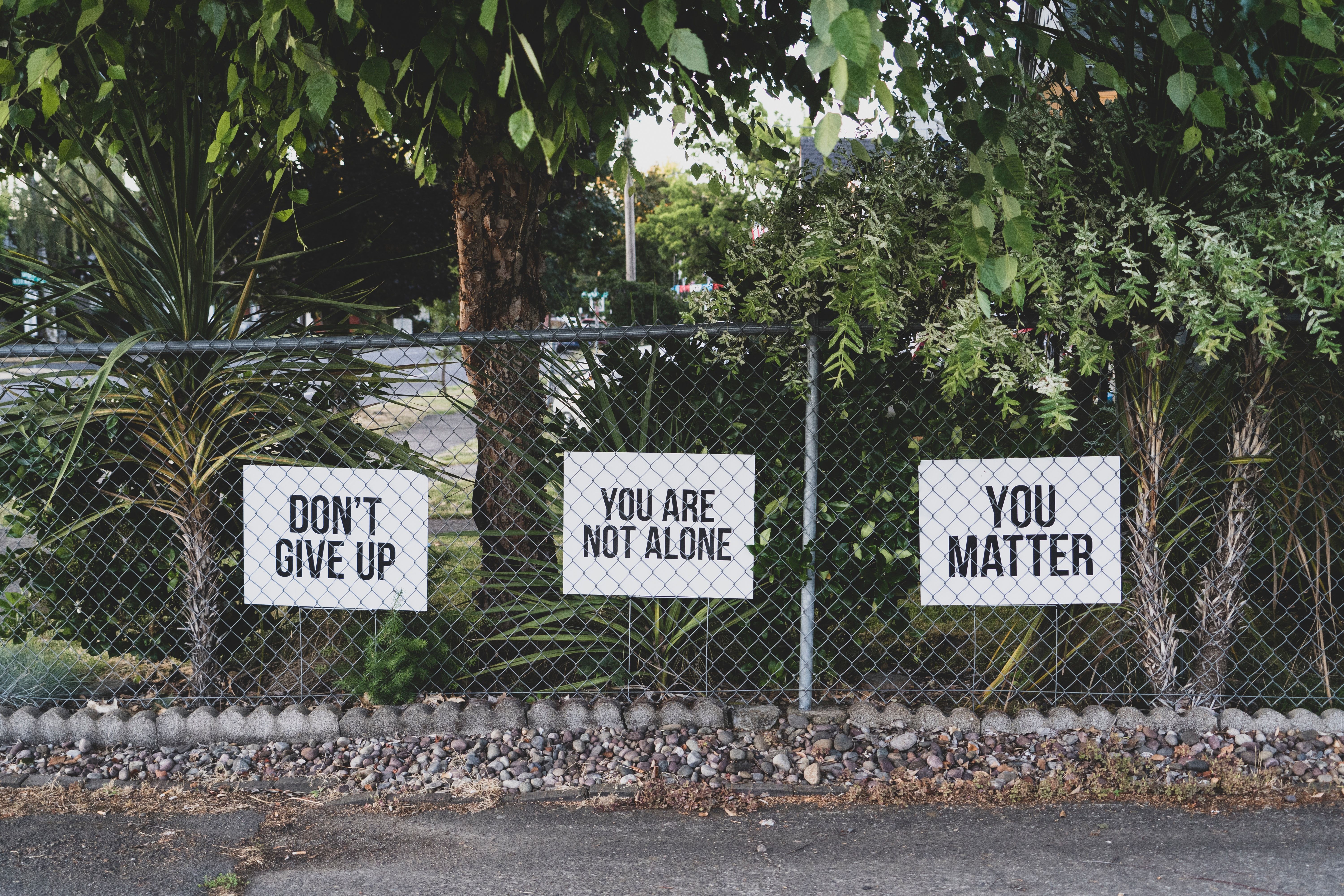 Resources to Get Help
Start here.
If you are looking for a recovery housing program in Missouri, please consult our "Accredited Programs in Missouri" page, which contains a listing of accredited recovery homes in the State of Missouri.  Each program has its own admissions procedures and requirements.  Please contact the programs directly if you are seeking admission for yourself or a loved one.  If you need further assistance with this process, each region of Missouri has its own Access Site that coordinates recovery care programs in those regions. A list of these Access Sites is available on our "Affiliates" page.
If you need immediate assistance with a mental health or substance use disorder problem, or need assistance outside of a program, below are some valuable resources available to the public:
If it is an emergency and physical harm is in danger, always call 911.  Many police departments in Missouri have CIT-trained officers who are equipped to deal with a mental health crisis.
For Local Assistance to get food, emergency housing or other necessary services, please dial 211 for the United Way.  You can also contact them on the Internet at www.211.org.
Hotlines, Helplines & Meetings: 
Missouri Access Crisis Intervention
Access Crisis Intervention (ACI) provides access to services for individuals experiencing a behavioral health crisis.  ACI will provide an opportunity for individuals to receive necessary behavioral health crisis services in an effort to reduce unnecessary interventions such as hospitalization or detentions. By calling the ACI hotline, individuals have access to behavioral health crisis services that are free and available to both youth and adults.  All calls are strictly confidential. ACI hotlines are staffed 24 hours a day, seven days a week by behavioral health professionals who are available to provide assistance.  Assistance may include phone contact, referrals to resources in the community, next day behavioral health appointments, or a mobile response.  Mobile is defined as either going to the location of the crisis, or to another secure community location. Please go to the web page and enter your county in Missouri for the Crisis number to call.
National Suicide Prevention Lifeline 
1-800-273-TALK (8255)
24-Hour Toll Free, confidential suicide prevention hotline available to anyone in suicidal crisis or emotional distress.
SAMHSA's National Helpline 
1‐800‐662‐HELP (4357)
Also known as, the Treatment Referral Routing Service, the Helpline provides 24‐hour free and confidential treatment referral and information about mental and/or substance use disorders, prevention, and recovery in English and Spanish.
Disaster Distress Helpline
1‐800‐985‐5990
Stress, anxiety, and other depression‐like symptoms are common reactions after any natural or human‐caused disaster. Call this toll‐free number to be connected to the nearest crisis center for information, support & counseling.
Veteran's Crisis Line 
1‐800‐273‐TALK (8255)
Connects veterans (families and friends) in crisis with qualified, caring VA responders through a confidential, toll‐free hotline, online chat, or text.
Drug‐Free Workplace
1‐800‐WORKPLACE (967‐5752)
Assists employers and union representatives with policy development, drug testing, employee assistance, employee education, supervisor training, and program implementation.
Behavioral Health Treatment Services Locator
Find alcohol, drug, or mental health treatment facilities and programs around the country.
Buprenorphine Practitioner & Treatment Program Locator
Find information on locating practitioners and treatment programs authorized to treat opioids.
Early Serious Mental Illness Treatment Locator
Find treatment programs in your state that treat recent onset of serious mental illnesses.
Alcohols Anonymous
Find meetings, local support groups, online groups, resources, daily reflections, etc.  English, Spanish and French.
National Institute on Alcohol Abuse and Alcoholism
Offers tools and training materials for community, school, and family interventions related to alcohol use and misuse.
 
Treatment for Alcohol Problems: Finding and Getting Help
A list of available treatment choices and what to consider when choosing among them.
 
Moderation Management
Promotes self-management, balance, moderation, and personal responsibility for people who struggle with alcohol use who are able to manage and moderate their use and wish to do so.
FAQ Sponsored by Al-Anon Family Groups
Provides the answers to frequently asked questions by those with alcohol problems and their families and friends.

Alcohol Treatment Navigator Sponsored by the National Institute on Alcohol Abuse and Alcoholism
Offers a comprehensive, step-by-step strategy for finding evidence-based alcohol treatment services for an adult loved one.
Narcotics Anonymous
Find meetings, local support groups, online groups, resources, etc. 
Marijuana Anonymous
Find meetings, local support groups, online groups, resources, etc.
Alcoholics Victorious (Celebrate Recovery)
A Christ-centered recovery organization.  Find meetings, local support groups, online groups, resources, etc.
Living Free Ministries – Curriculum
Christ-centered program for people dealing with destructive behavior, harmful emotions, negative attitude, unhealthy relationships, and substance abuse.  Offers training and curriculum programs often used in recovery programs and prisons.
An Extensive List of Hotlines Sponsored by the HHS Family and Youth Services Bureau
Provides a long list of helpful services and hotlines specifically for families and youth.
 
Crisis Text Line
Provides 24/7 support for individuals experiencing a crisis via text message.
 
loveisrespect.org
Provides an opportunity for teens and young adults to receive support when dealing with an unhealthy or abusive relationship. The site offers online chats, telephone support, and texting with a peer advocate.
 
Partnership for Drug-Free Kids
Serves as a support network for families of children struggling with substance misuse.
 
National Sexual Assault Hotline
Connects callers to a local sexual assault crisis center so they can receive information and support. Includes access to a new RAINN app that gives survivors of sexual violence and their loved ones access to support, self-care tools, and information.
 
National Sexual Assault Hotline
1-800-799-SAFE (7233)
Provides confidential, one-on-one support for women, men, children, and families affected by domestic violence. Crisis intervention and support are offered 24/7, 365 days a year with well-trained advocates via phone, online chat, text, or video phone for victims who are deaf or hard of hearing.
SMART Recovery
Offers a self-empowering addiction recovery support group network with face-to-face and daily online meetings.
 
Life Ring
Offers peer-to-peer support and personal strategies to fight addiction to alcohol and drugs.
 
Secular Organizations for Sobriety
Offers resources to help individuals achieve and maintain sobriety and abstinence from alcohol and substance use disorders.
Apps:
SAMSHA's "Talk. They Hear You."
Helps parents and caregivers talk to kids (9-15 years old) about the dangers of underage
drinking.
 
SAMHSA's Behavioral Health Disaster Response App
Provides responders with access to critical resources, including the Behavioral Health Treatment Services Locator to identify substance use and mental health treatment facility locations.
 
Suicide Safe
Helps providers integrate suicide prevention strategies into their practice, address suicide risk among their patients, and make referrals to treatment and community resources.
 
Connections: A-CHESS Platform
An evidence-based mobile application that provides ongoing support and relapse
prevention for people recovering from substance use disorders.
 
Dialectical Behavior Therapy Diary Card and Skills Coach
Provides users with self-help skills, reminders of therapy principles, and coaching tools for coping.
 
I Am Sober
Allows users to track their recovery process. It includes features such as a tracker and
notifications for new milestones.
 
The Addiction Recovery Guide's Mobile App Listing
Provides descriptions and links to other apps that support recovery, including
self-evaluation, recovery programs, online treatment, and chat rooms.
Family Support:
SAMHSA's National Family Dialogue
Connects families of young people with substance use disorders to resources and support.
 
SAMHSA's Information and Resources for Families and Family-Based Organizations
Resources for families and family-run organizations supporting recovery and
resilience for children, youth, and adults.
 
The National Child Traumatic Stress Initiative
Provides information and resources to help identify and address traumatic stress in children, which increases the risk of behavioral health challenges and for a range of medical conditions.
 
Nar-Anon Family Group
Facilitates connections with family groups for those who have a loved one experiencing a substance use disorder.
Parents of Addicted Loved Ones: "Parents of Addicted Loved ones provides hope and support through addiction education for parents dealing with an addicted loved one."
Partnership to End Addiction: For Parents and Caregivers.  From tips on preventing substance use to guidance on managing recovery from addiction, we have the information and resources you need at every step of the way,  Including Helpline.
MAT & MOUD:
SAMHSA's Medication-Assisted Treatment (MAT) Page
Defines and discusses the effectiveness of Medication-Assisted Treatment and provides a list of treatment locators.
 
The St. Josephs Health Alternatives to Opioids Pain Management Model
Details how to use targeted non-opioid medications, trigger-point injections, nitrous oxide, and ultrasound-guided nerve blocks to tailor acute and chronic pain management strategies to meet patient needs while eliminating the risks associated with opioid prescribing.
 
Providers Clinical Support System for Medication Assisted Treatment
Offers training, consultation, and mentoring to physicians and other healthcare providers (including nurse practitioners and physician assistants) who desire to prescribe and/or dispense FDA-approved products approved for the treatment of opioid use disorders.
Mental & Behavioral Health Resources:
SAMHSA's Early Serious Mental Illness Treatment Locator
Provides a confidential and anonymous source of information for persons and their family members seeking treatment in the U.S.
 
American Public Health Association
Discusses mental health as a topic area, offering an overview of the issue along with recommendations for improving access to care.
 
MentalHealth.gov
Offers guidance for recognizing mental health issues and starting conversations with friends and family members, educators, and faith and community leaders, among others.
 
Mental Health First Aid
Lists training resources for supporting people with substance abuse and cooccurring
disorders.
 
National Council For Behavioral Health
Details guidance on policy action, consulting, and best practices in behavioral health.
 
American Psychiatric Association's Practice Page
Lists resources and information on practice management and professional development for psychiatrists.
 
National Alliance on Mental Illness
Provides education and advocacy programs for those affected by mental disorders, including a toll-free helpline for families in communities throughout the United States.
 
Mental Disorders Depression and Bipolar Support Alliance
Serves as the leading peer-directed national organization focusing on the two most prevalent mental disorders, depression and bipolar disorder.
 
Mental Health America
Offers resources about mental disorders; through affiliates, provides America's communities and consumers with direct access to a broad range of self-help and professional services.
 
National Center on Domestic Violence, Trauma, and Mental Health
Provides training, support, and consultation to advocates, mental health and substance abuse providers, legal professionals, and policymakers working to improve agency and systems-level responses to survivors of domestic violence.
 
National Institute of Mental Health
Serves as the lead Federal agency for research on mental disorders.
 
Psychology Today's Find A Therapist Directory
Allows users to locate, by city or ZIP code, a therapist, psychologist, or counselor who specializes in mental disorders.
 
Schizophrenia and Related Disorders Alliance of America
Promotes improvement in lives affected by schizophrenia and schizophrenia spectrum disorders (mental illnesses involving psychosis) and promotes hope and recovery through support programs, education, collaboration, and advocacy.
Native American Resources: 
Wellbriety Movement
Provides an interconnected online resource across Native Nations about recovery for individuals, families, and communities.
 
The National Congress of American Indians - Provides resources and information regarding conferences and other events useful to tribes fighting the opioid epidemic.
 
White Bison
Offers a wide range of culturally-based resources to help Native Americans and Alaska Natives fight addiction and achieve sobriety and well-being.
Opioid-Related Resources:
Opioid Treatment Program Directory
Find treatment programs in your state that treat addiction and dependence on opioids
A Primer on Opioids: The Critical Role of Health Education in Preventing Addiction and Saving Lives  - The Society for Public Health Education's fact sheet to promote understanding of the health education approach to the opioid  epidemic.
 
SAMHSA's Opioid Overdose Prevention Toolkit
Helps communities and local governments develop policies and practices to prevent opioid-related overdoses and deaths. The toolkit addresses issues of interest to first responders, treatment and service providers, and those recovering from an opioid overdose.
 
SAMHSA's Treatment Improvement Protocol (TIP) 63
A Treatment Improvement Protocol (TIP) that reviews the use of the three Food and Drug Administration (FDA)-approved medications used to treat OUD—methadone, naltrexone, and buprenorphine.
 
Decisions in Recovery: Treatment for Opioid Use Disorder
Helps families make informed decisions about treatment for addiction to pain medication or other opioids, such as heroin or fentanyl.
Overdose Prevention: 
Get Naloxone Now
Contains interactive trainings on naloxone administration for professional first responders.
 
Harm Reduction Coalition
Provides resources on Naloxone distribution and partnering with law enforcement to advocate for individuals and communities affected by drugs.
 
Naloxone for Opioid Overdose: Life-Saving Science Sponsored by the National Institute On Drug Abuse
Includes information and resources for those who may use Naloxone to combat opioid overdoses.
 
A Naloxone Toolkit Sponsored by the National Training and Technical Assistance Center
Offers information and resources to help law enforcement agencies establish Naloxone programs.
 
Patient and Family Opiate Treatment Guide
Offers facts about treatment related to opiates and provides resources for
responding to an opioid overdose.
YOUR RECOVERY IS IMPORTANT: VIRTUAL RECOVERY RESOURCES 
Alcoholics Anonymous: Offers online support 
Cocaine Anonymous: Offers online support and services 
LifeRing: LifeRing Secular Recovery offers online support 
In The Rooms - Online Recovery Meetings: Provides online support through live meetings and discussion groups 
Marijuana Anonymous: Offers virtual support 
Narcotics Anonymous: Offers a variety of online and skype meeting options 
Reddit Recovery: Offers a virtual hang out and support during recovery 
Refuge Recovery: Provides online and virtual support 
Self-Management and Recovery Training (SMART) Recovery: Offers global community of mutual-support groups, forums including a chat room and message board 
SoberCity: Offers an online support and recovery community 
Sobergrid: Offers an online platform to help anyone get sober and stay sober 
Soberistas: Provides a women-only international online recovery community 
Sober Recovery: Provides an online forum for those in recovery and their friends and family 
We Connect Recovery: Provides daily online recovery groups for those with substance use and mental illness 
Unity Recovery + WEconnect + Alano Club: Providing daily virtual meeting for those in recovery and for their family members 
The National Alliance for Mental Illness (NAMI) HelpLine Coronavirus Information and Resources Guide 
Hazelden Betty Ford Foundation: contains online support meetings, blogs, mobile apps, social media groups, and movie suggestions, including the online support community 
Shatterproof: "How I'm Coping with COVID-19 and Social Isolation as a Person in Long-Term Recovery" provides helpful suggestions 
The Chopra Center: "Anxious About the Coronavirus? Here Are Eight Practical Tips on How to Stay Calm and Support Your Immune System." 
TIPS TO SET UP A VIRTUAL RECOVERY MEETING 
Simple steps for 12 step groups using various virtual platforms for meetings: https://www.nyintergroup.org/remote-meeting-listing/help-setting-up-online-meetings/#zoom 
To host a meeting on zoom: 
Set up a free account here: https://zoom.us When you set up a free account, you can only host a meeting for 45 minutes. To host longer meetings, you need a paid account. 
Schedule a meeting https://support.zoom.us/hc/en-us/articles/201362413-Scheduling-meetings 
Invite people to join a meeting : https://support.zoom.us/hc/en-us/ articles/201362183-How-do-I-invite-others-to-join-a-meeting 
Create a flyer to publicize meetings. This flyer is sent to group members via email and text, posted on self-help group's District Website and posted on door of the physical site that is closed in an attempt to reach anyone who shows up for a meeting.