What is a ROSC?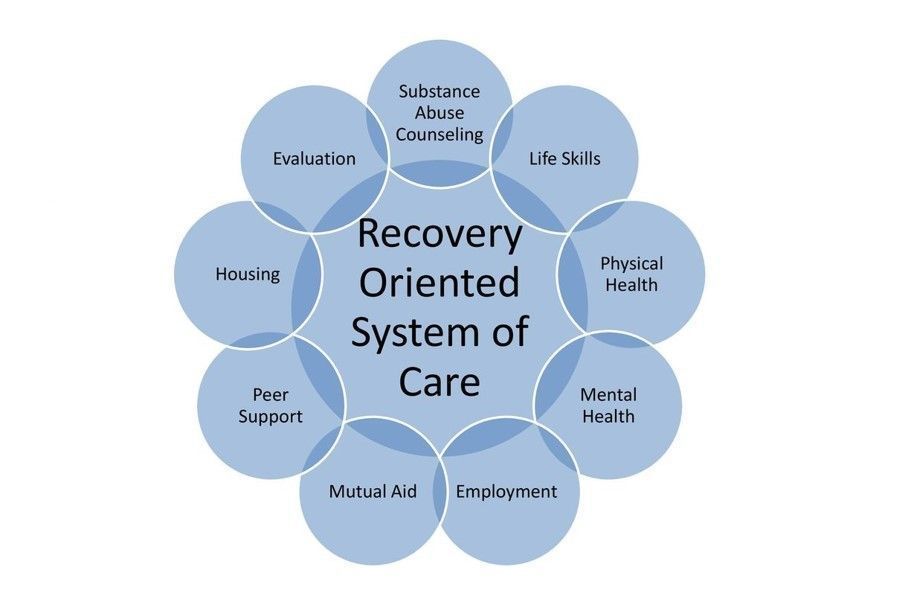 Recovery-Oriented Systems of Care (ROSC) create an infrastructure or "system of care" with the resources to effectively address the full range of substance use problems within communities.
The Wellbriety Movement
"Suppose you have 100 acres full of sick trees who want to get well. If each sick tree leaves the forest to find wellness and then returns to the forest, they get sick again from the infection of the rest of the trees. The Elders taught us that to treat the sick trees you must treat the whole forest - you must create a healing forest. If not, the trees will just keep getting sick again."

"The community forests are now filled with alcoholic trees, drug-addicted trees, co-dependency trees, domestic violence trees, and trees with mental issues. The soil in which those trees are growing is … anger, guilt, shame, and fear."
*DON COYHIS, Founder of White Bison and the Wellbriety Movement
*White, W. (2007). The Native American Wellbriety Movement: An Interview with Don Coyhis. www.williamwhitepapers.com

Don Coyhis, a leader of the Native American Wellbriety Movement, has eloquently described the concept of a Healing Forest. This kind of reinfection frequently happens when clients return from residential treatment or incarceration to communities that present a high risk for returning to substance use. The concept of the Healing Forest challenges us to focus on the entire community as the recovery center. For this reason, MCRSP has established a Statewide Recovery-Oriented Systems of Care (ROSC) in Missouri. Through MCRSP and its 5 regional ROSC affiliates, we are creating Healing Forests that mobilize entire communities to promote and support recovery.
Each Regional ROSC works with key stakeholders to develop their local coalitions. Each coalition consists of recovery support service providers, treatment providers, families, faith-based organizations, other social service organizations, individuals in long-term recovery, justice-involved individuals, probation and parole, law enforcement agencies, hospitals, school personnel, employers, and concerned citizens.
These regional coalitions have organized Recovery Month rallies, marches, and celebrations, sponsor overdose awareness events, conduct trainings and hold monthly meetings to discuss issues of local concern.   They have provided recovery support resources for families and expanded and diversified the number of peer-based recovery support groups so that persons seeking recovery can have more choices.
Recovery-Oriented Systems of Care (ROSC) are...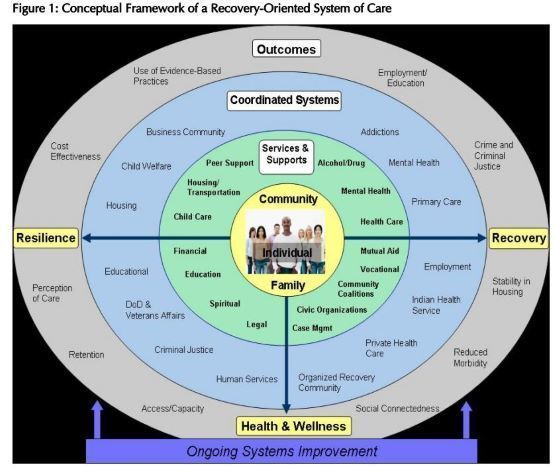 …A coordinated network of community-based services and supports that is person-centered and builds on the strengths and resiliencies of individuals, families, and communities to achieve abstinence and improved health, wellness, and quality of life doe those with or at risk of alcohol and drug problems."
…A person-centered system utilizing family and other ally involvement to ensure individualized and comprehensive services across the lifespan. Strength-based, culturally responsive, and trauma-informed systems anchored in the community providing continuity of care and partnership-consultant relationships.
…A shift away from crisis-oriented, deficit-focused, and professionally-directed models of care to a vision of care that is directed by people in recovery, emphasizes the reality and hope of long-term recovery, and recognizes the many pathways to healing for people with addiction and mental health challenges.*
*Achara-Abrahams, I., Evans, A. C., & King, J. K. (2011). Recovery-focused behavioral health system transformation: A framework for change and lessons learned from Philadelphia. In J. F. Kelly & W. L. White (Eds.), Addiction recovery management: Theory, research and practice. (pp. 187- 208). Totowa, NJ: Humana Press.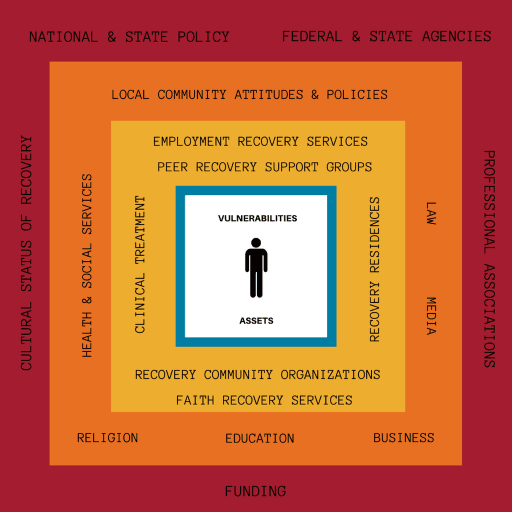 The Core Values of a Well-Designed ROSC
Assure that recovery-oriented strategies are an integral part of all systems;
Offers equal opportunity for holistic wellness;
Embraces cultural diversity;
Acknowledges the role that spirituality can play in the recovery process;
Requires data-informed decisions;
Use of language that is not stigmatizing;
recognizes the special need to address children's recovery;
Collaboration across agencies and service systems;
Values Recovery as the focus in all phases of addiction services, from community-based prevention to acute care to community integration;
Is trauma-informed;
Is developed, implemented, managed, monitored and evaluated in partnership with people in recovery, their families and advocates.
Central Focus of a ROSC
The central focus of a ROSC is to create an infrastructure or "system of care" with the resources to effectively address the full range of substance use problems within communities. The specialty substance use disorder field provides the full continuum of care (prevention, early intervention, treatment, continuing care and recovery) in partnership with other disciplines, such as mental health and primary care, in a ROSC. A ROSC encompasses a menu of individualized, person-centered, and strength-based services within a self-defined network. By design, a ROSC provides individuals and families with more options with which to make informed decisions regarding their care. Services are designed to be accessible, welcoming, and easy to navigate.
A fundamental value of a ROSC is the involvement of people in recovery, their families, and the community to continually improve access to and quality of services.
SAMHSA's 8 Dimensions of Wellness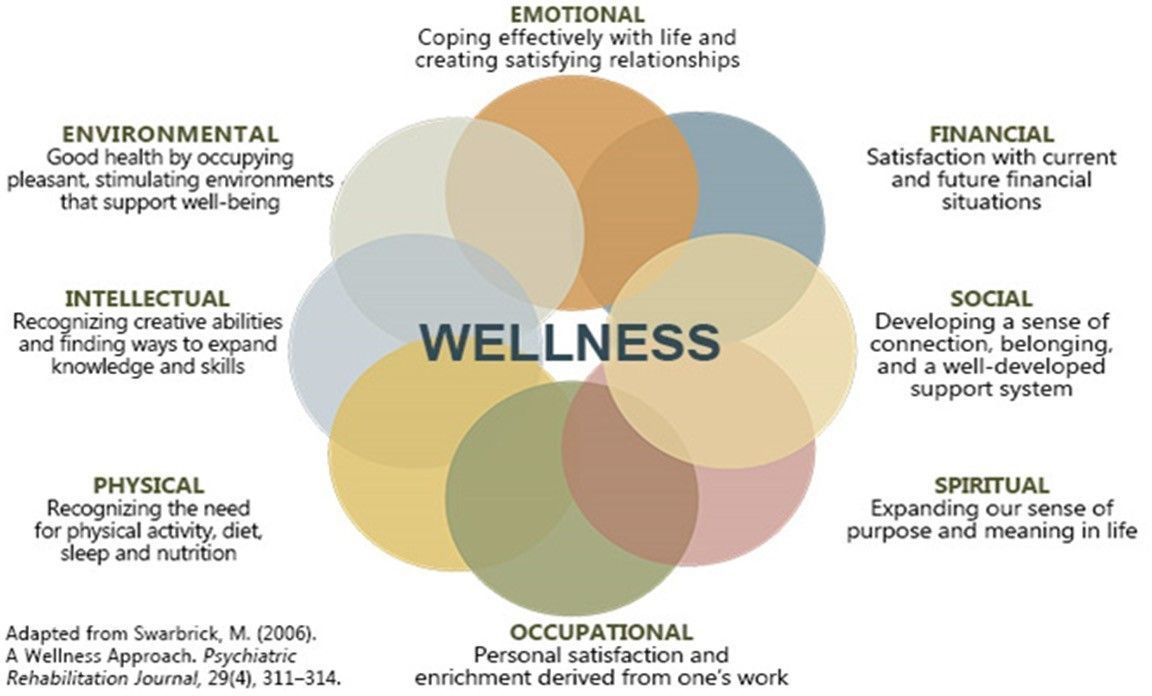 Traditionally, recovery-oriented services have been viewed as long-term recovery related activities that occur after a formal substance use treatment episode. However, recovery-oriented activities and approaches are also part of the full continuum of care available to persons within a ROSC. Substance use problems are preventable, but left untreated can progress into more serious conditions and can become chronic. A ROSC provides a network of services and supports to address the full spectrum of substance use problems, from harmful use to chronic conditions. Through education, communities are strengthened by recovery-oriented activities that can prevent inappropriate substance use before it occurs. Education also raises awareness about the disease, dispels myths that foster stigma and discrimination, and provides early intervention for those at risk of developing substance use conditions. A ROSC supports the premise that there are many pathways to recovery. Recovery-oriented activities include providing a menu of traditional treatment services and alternative therapies, including peer recovery coaching, acupuncture, meditation, and music and art therapy. Recovery support services, including employment assistance, childcare, care management and housing support, may enhance the engagement of individuals and their families in achieving and sustaining recovery.